Good qualities and first programmes
The production of various cabbage vegetables from Italy (Apulia) and Spain (Murcia) will start within the next weeks with comparable high temperatures. Due to that, the products have lost quality, which would be much better in milder weather. The same varieties of cauliflower and broccoli were grown as in the last 2-3 years – only the production of cauliflower has decreased by about 30%.


In Spain, there will be above-average availability for now, and significantly lower availability from week 49 onwards.
In Italy, the production so far shows very good qualities overall. Romanesco is available in its first week of season in Italy and France in smaller quantities for the moment. In contrast, broccoli from Italy is on the market in sufficient quantities. Likewise, the cauliflower season has already completed its first programmes for export. In France, due to the mild weather, cauliflower is in high availabilities and good qualities. The lower temperatures predicted for the next few weeks mean a reduction in the growth process for especially cauliflower and broccoli. Romanesco, on the other hand, gains in quality especially at "fresher" temperatures.
The trend of organic cauliflower and broccoli is increasing.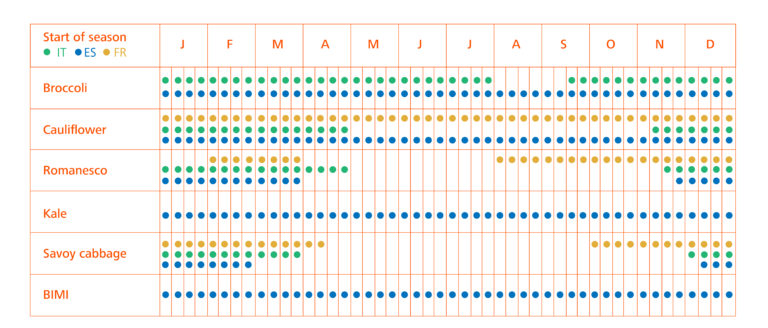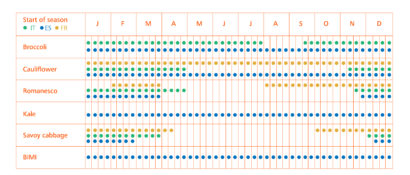 Italy takes preparations against potential infection
Possible diseases in broccoli, cauliflower, romanesco:
> Alternaria alternata (black fungus) – No need to worry here for the time being.
> Peronospora (downy mildew)
In Italy, sufficient precautions have been taken that these diseases can be excluded at the moment. However, if an infection should occur, we will be informed by our producers about 1-2 weeks in advance. This allows us to switch to another production area quickly.
Logistical planning remains challenging
The logistics in Spain, Italy and France are still facing some challenges due to very high transport costs – especially in December (around Christmas) and in January. It will also be a problem to provide enough freight space from week 49 onwards.