We at KÖLLA are optimistic about the upcoming stone fruit season and expect a good harvest in Greece as well as in Italy and France.
In some parts of Spain, only the lack of water in summer will be a problem.
The first apricots from Italy (Sicily) and Spain will start this year's season this week (week 18). We expect larger quantities in week 20 for deliveries to Germany.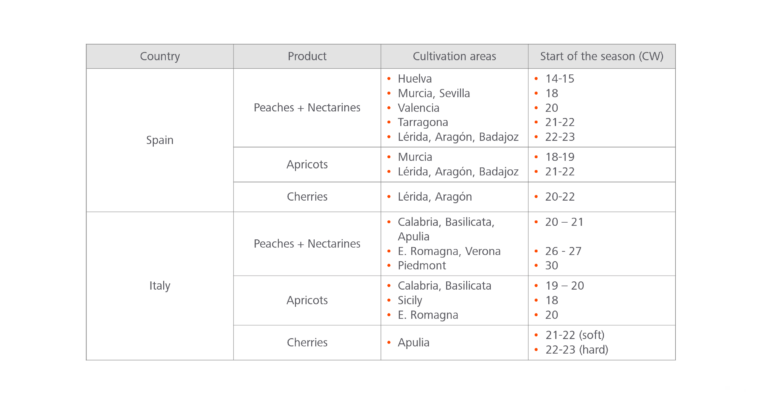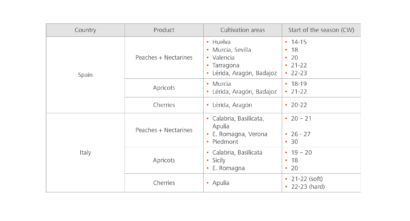 Spain
Looking back, we have had a winter with optimal conditions for a good season. The cool temperatures enabled the trees to gather enough energy for new blossoms and fruits. Only the water shortage will lead to exceedingly smaller calibres in the upcoming summer. Especially the area around Seville and Lérida (from July) will be affected by this problem. In Huelva, the stone fruit season has already started with small calibres for the time being. In mid-May we expect better calibres here and in the Seville area. The apricot harvest in the Murcia area is expected to be about 30% smaller than usual in May.
The greenhouse harvest in Mazarrón has already started in week 16, offering small calibres that are only suitable for tray programmes and are somewhat sensitive. In the first week of May, the season starts in the Cieza/Abarán area. There, programmes are possible from week 19 – but not yet in full supply – with subsequent supply in week 20.
From June – with the start of the season in the northern Spanish areas of Tarragona, Lérida and Aragon – normal supply should be possible. After 4 months, the entire season is finished here in mid/end September.
Italy
With partly unclear effects, especially cultivation areas in the north of Italy were affected by frost and hail.
While southern production areas such as Calabria, Basilicata and Apulia are expecting a good harvest and have seen less damage, some producers in northern areas such as in E. Romagna are partly affected by crop damage. However, as the hailstorm was very diffuse here, not all growing areas were equally affected – some even experienced almost no impact from the storm.  In the Piedmont region, the harvest was also not affected. In the end, we can assume a normal start to the season overall.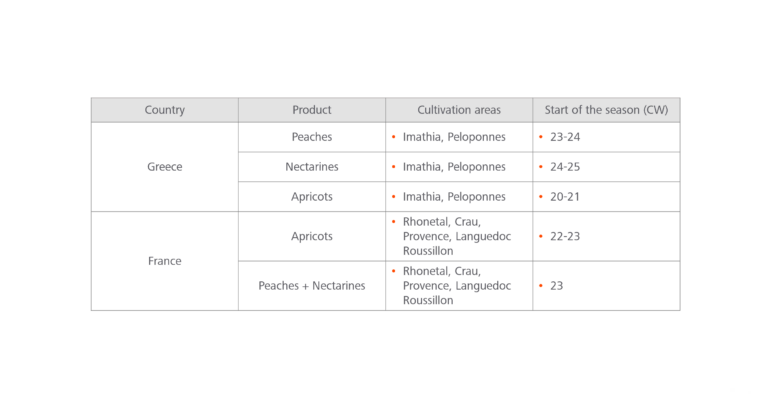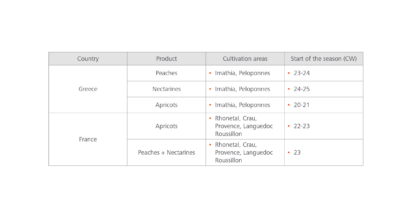 Greece
Mild temperatures are currently prevailing locally, which are also expected to continue for the next 7-10 days according to the forecasts. This is conducive for the now upcoming phase of fruit formation/development of apricots (week 20), peaches (week 23) and nectarines (week 24).
France
The seasonal outlook for apricots, peaches and nectarines looks very good at the moment. There have been no frost episodes and none are expected. The only thing to worry about is hail. The apricot harvest will start a little later than last year in weeks 20/21. Peaches and nectarines will start at the beginning of June.
April 2023